Female sexual desire — what women want — is seen as dangerous, threatening… a force to be suppressed. Men's sexual desire, on the other hand, is endlessly celebrated as a positive force for social order.
It's hard to imagine that it has been over 50 years since the sexual revolution was supposed to have wiped all that away.
It is a dangerous time for women's rights, sexual equality, and freedom of speech. THE DILEMMA OF DESIRE is about women rising up to take on the patriarchy using the truth seeking of science, the provocative power of art, and the deeply personal gender politics of the bedroom.
For more information and/or
to view our demo reel, please contact:
Maria Finitzo – mfinitzo@gmail.com
For sales inquiries, please contact:
Annie Roney, ro*co films
THE DILEMMA OF DESIRE explores the clash between gender politics and the powerful imperatives of female sexual desire, by following two scientists and two artists who are using their work to shatter myths and outright lies women are taught about their sexual desire and their bodies. Interwoven throughout are intimate portraits of five diverse women who share their personal stories of how they struggle with and eventually overcome patriarchal structures designed to keep them silent and controlled.
"Whatever is unnamed, undepicted in images, whatever is omitted from biography, censored in collections of letters, whatever is mis-named as something else, made difficult-to-come-by, whatever is buried in the memory by the collapse of meaning under inadequate or lying language — this will become, not merely unspoken but unspeakable." — Adrienne Rich, Poet, Essayist, Feminist
There can be no equality without equality of pleasure. This is at the heart of THE DILEMMA OF DESIRE and the driving belief behind the work of four compelling women, two scientists and two artists, who are using their work to shatter myths and outright lies, women have been told about their sexual desire and their bodies. They are committed to the truth. Call it "Cliteracy"- coined by artist Sophia Wallace, it is the acknowledgement and understanding that the clitoris is fundamental to the female orgasm. Through her art, Wallace is changing culture and the way we talk about female pleasure. Inspired by Wallace's art, Dr. Stacey Dutton, a neuroscientist realized she had never seen a drawing of the clitoris until she discovered Wallace's work, is now committed to making the publishing industry correct the lies and outright omissions about the clitoris found in the majority of Anatomy textbooks. Dr. Lisa Diamond is dismantling outdated notions about women's arousal and desire with 20 years of groundbreaking research and Ti Chang, an industrial designer and the only female sex toy designer started CRAVE, a company dedicated to designing and manufacturing elegant vibrators for women.  CRAVE is also about empowerment. Ti and her company are changing the conversation around female pleasure.  
Working in consert with the portraits of our four compelling women are the stories of five diverse women, who on a daily basis confront in their lives all of the social constructs that not only deny women the right to be sexual, but punish them when they are. Through their voices, THE DILEMMA OF DESIRE enters a deeply personal space.
Umnia, a Pakistani Muslim woman did everything her family, culture and religion required. An arranged marriage ended in a painful divorce and now at 38, she is alone, longing for connection in a dating landscape that offers none. Recovering from a painful breakup, Becca uses poetry and art to heal herself and empower other women going through similar pain. Sunny balances the expectations of her Chinese parents who want her to enter a PhD Program in Economics  (a male dominated field) with her own need to express herself as a stand up comic satirizing the culture of the dating landscape. Jasmine, raised in a conservative Baptist family, rejected all she was taught about sex and sexuality, choosing instead to find her authentic self by working in the sex industry as a stripper. She is an outspoken advocate for the rights of sex workers. Coriama, a queer woman of color, calls herself an erotic artist. She sees pleasure as a form of resistance to racism and misogyny.  Through her work on the series Queer the Air, she creates a conversation about pleasure and sexuality within communities of color.
THE DILEMMA OF DESIRE will present the truth about what women really want showing that true equality will come only when we all arrive at a place of understanding and acknowledgement that all women are sexual beings, entitled to live their lives fully within the expression of their desire.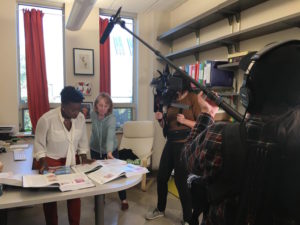 THE DILEMMA OF DESIRE is a feature length documentary by two- time Peabody Award-winning filmmaker, Maria Finitzo, produced in partnership with Kartemquin Films that will explore the clash between the power of gender politics and the equally powerful imperatives of female sexual desire through the lens of compelling women. Providing the over arching narrative spine of the film is the work of two scientist and a conceptual artist. These three provocative women are committed to using their work to shatter the myths and out right lies women have been told not only about their sexual desire but their bodies as well. Through her art, Sophia Wallace is changing the way we talk about female  pleasure. Dr. Stacey Dutton is taking on the scientific and medical establishment, which for decades has denied and ignored the legitimacy of the clitoris, the organ of sexual pleasure found on the body of every mammal born female and Dr. Lisa Diamond is dismantling outdated notions about women's arousal and desire through 20 years of ground breaking research. Woven throughout the narrative of our scientists and artist, are the stories of five diverse women who have agreed to share with us their personal stories of what it means to be sexual in today's world. Intimately portrayed, each of these women talks about how they confront on a daily basis powerful cultural, religious and political forces that punish them for simply wanting sex.
Part verite, part essay, political, provocative, funny and a little edgy, THE DILEMMAOF DESIRE will investigate through our subjects' stories and their work dominant and outdated sexual narratives that have mostly gone unexplored and unchallenged—Women need to feel emotionally secure and attached to want sex otherwise they don't. Female Eros is much better made for monogamy than the male libido. Women's bodies are the objects of pleasure but not necessarily the recipients of it and it is "normal" for women to lose lusty desire in long-term, monogamous relationships, to name just a few.
"WE" hang on to these cherished myths about female sexual desire, despite scientific studies reporting that these myths are social constructs and that, in fact, women want sex far more than we've been allowed to believe. What's more, the antiquated and dangerous notions that sexually empowered women are to be feared remains solidly in place, reinforced in movies, television, books and music.
THE DILEMMA OF DESIRE will explore how we have gotten to where we are today, and why despite the real gains that came with the 60's revolution, women must still navigate a powerful and at times outright misogynistic patriarchy. And so even as we see mounting evidence that women want what men want, antiquated sexual scripts remain in place in place and women are caught, in a catch-22, a double bind, a quandary, a dilemma of desire. The way women are viewed sexually in the world cannot be separated from the way they are treated. At the end of the day, it all comes down to equality. Ask yourself this: How different would our world look if women's libidos were taken as seriously as men's?
The DILEMMA OF DESIRE is about women rising up to take on the patriarchy using the truth seeking of science, the provocative power of art and the deeply personal gender politics of the bedroom.
Maria Finitzo – Director
Maria Finitzo is a two-time Peabody Award-winning social issue documentary filmmaker. Over the last 26 years Maria has directed and produced a body of work that has won every major broadcast award and has been screened in festivals and theaters around the world. Her films are novelistic in their structure, providing multiple points of connection for an audience. She allows the narrative arc of her character's story to evolve, colliding with other subjects from the film, creating a complex, nuanced story that serves as a vehicle to deepen our understanding of society through everyday human drama.
A coming of age story that reveals the resilience of adolescent girls (5 GIRLS); a father determined to heal his daughter after a tragic accident (MAPPING STEM CELL RESEARCH: TERRA INCOGNITA); a young man, alone in the world trying to find his way (WITH NO DIRECTION HOME); a soccer coach committed to teaching his players – Hispanic girls – about winning in life (IN THE GAME); and a young couple, both working minimum wage jobs struggling to make ends meet while building a life for themselves and their children (HARD EARNED) are all films that explore different realms of storytelling by investigating the important social issues of the day. Finitzo's next documentary project is THE DILEMMA OF DESIRE, a film that will look at the complex nature of female sexual desire.
Finitzo's films have tackled a variety of subjects from the controversial science of stem cell research and the complex questions surrounding the command and control of nuclear weapons to the psychology of adolescent girls, each film demonstrating a depth and breadth of knowledge and expertise. She is a long-time associate of the award-winning documentary company, Kartemquin Films, one of the oldest and most respected social issue documentary film companies in the country.
Finitzo is also a screenwriter and fiction film director. Her interest in fiction filmmaking is a natural evolution of her commitment to exploring different realms of storytelling. In 2014, she founded FILMARTS Productions, LLC, a Chicago-based production company dedicated to producing independent films. Her first feature, THOSE LEFT BEHIND, from her original screenplay is currently in distribution. FILMARTS has in development THE PASSION OF GRACE, an adaptation of the award-winning story PASSION by the Nobel Prize award-winning author, Alice Munro.
In June of 2008, Maria was awarded an MFA in Writing for the Screen and Stage from Northwestern University. Maria is also an adjunct member of the faculty in Northwestern's School of Communication teaching in the MFA in Documentary Studies.
Cynthia Kane – Producer
Cynthia Kane created DOCday on Sundance Channel, shepherded over 150 international and U.S. co-productions for public media at ITVS, and at Al Jazeera America oversaw Kartemquin's series Hard Earned (2016 Alfred I. DuPont-Columbia Award), Albert Maysles' final work, In Transit, Leon Gast's Sporting Dreams, Barbara Kopple's Shelter, Jennifer Maytorena Taylor's Daisy and Max, Michelle Shephard and Patrick Reed's Guantanamo's Child, Marc Levin's Freeway: Crack in the System.  With gbgg productions and Les Film de l'Après Midi, Kane executive produced, New Eyes, director: Hiwot Admasu Getaneh, (Venice, TIFF, Rotterdam.)  In 2016, Kane joined forces with former NYC Film Commissioner Cynthia Lopez as creative consultants for Zeva Oelbaum and Sabine Krayenbühl's Letters from Baghdad about the extraordinary life and times of Gertrude Bell.
Along with Cynthia Lopez, Cynthia currently works with East Village Entertainment and Women Make Movies.
Diane Quone – Producer
Diane Quon lived in Los Angeles for over 17 years before moving back to her hometown of Chicago. While in LA, Diane worked at NBC and at Paramount Pictures where she was last the Vice President of Marketing. Diane is producing multiple documentaries with Kartemquin Films (Hoop Dreams, Life Itself) including Minding the Gap directed by Bing Liu (making its world premiere at 2018 Sundance Ilmf Festival); Left-Handed Pianist along with Chicago Tribune arts critic Howard Reich, and co-directed by Leslie Simmer and Kartemquin founder Gordon Quinn; and The Dilemma of Desire with Peabody Award-winning director Maria Finitzo.   Diane is a 2017 Film Independent Fellow and is currently developing a fiction film based on the New York Times best-selling book, Hotel on the Corner of Bitter and Sweet.
Liz Kaar – Editor
Liz Kaar is an independent filmmaker and editor based in Chicago. She has worked closely with Chicago's documentary powerhouse Kartemquin Films for the last decade. She most recently directed, produced, shot and edited Stranded by the State, a web series and TV miniseries, about the human cost of the two-year Illinois budget impasse, the longest a state has gone without a budget since the Great Depression. She co-directed and edited Hard Earned, the company's six-part series about people living on low wages across the US, airing on Al Jazeera America. The series won a prestigious Alfred I. Dupont-Columbia Journalism Award in 2016 and was nominated for an IDA award. In the past, she edited and associate-produced the music documentary Andrew Bird: Fever Year, festival-favorite On Beauty, and was lead editor for the web series Veterans Coming Home. She also edited Kartemquin's Typeface, In the Game and '63 Boycott. Liz was Director of Post-Production at Kartemquin Films from 2008-2012, managing the department and ushering in the brave new workflow of card-based media. Liz has also produced and directed non-profit videos for such organizations as the CDC, Illinois Department of Public Health, and the Newberry Library. Fluent in Spanish, she tries to work in the language as much as possible. She is currently producing Computer Hackers (WT), a fiction film about the Chicago public school system replacing all its teachers with VR headsets and the students who fight back. She is also editing Kartemquin's The Dilemma of Desire and Eating Up Easter.
Kartemquin Films
Kartemquin sparks democracy through documentary. In 1966, Kartemquin Films began making documentaries that examine and critique society through the stories of real people. Kartemquin's first film, Home For Life – a powerful chronicle of two elderly people entering a home for the aged that was called "extraordinarily moving" by Roger Ebert of the Chicago Sun-Times – established the direction the organization would take over the next four decades. With a record number of films currently in development and production, Kartemquin is poised to continue this legacy for years to come.
The organization has won every major critical and journalistic prize, including Emmys, Peabodys, duPont-Columbia and Robert F. Kennedy journalism awards, Independent Spirit, IDA, PGA and DGA awards, and an Oscar nomination. A proud recipient of one of eight international 2007 MacArthur Awards for Creative and Effective Institutions, Kartemquin has been described by the Chicago Reader as a "documentary powerhouse." In 1997 The Chicago Film Critics Association gave Kartemquin their Big Shoulders Award for outstanding service to the film community and the world, and in 2010 Kartemquin was honored with the Altgeld Freedom of Speech Award for "unflinchingly holding up a mirror to American society." Additional awards include the 2009 Ron Sable Award for Activism from the Crossroads Fund, a 2013 Media Pioneer Award from the Benton Foundation, and Community Media Workshop's 2014 Studs Terkel Award. In 2014, the Riverrun Film Festival gave Kartemquin their "Master of Cinema" Award.
Discussing Equality in the Bedroom with 'The Dilemma of Desire' Filmmakers
We speak with documentary heavyweights Maria Finitzo, Diane Quon, and Cynthia Kane about their upcoming feminist film.
https://nonfics.com/dilemma-of-desire-interview/
CLITICAL THINKING
A New Film Looks At The Dilemma of Desire